"Without a doubt the best and most versatile water-based resist in the world! I have tried a multitude
of other brands, both solvent and water based. Procolour

Resistad

is the only reliable resist in the
marketplace that has never let me down. It is basically foolproof when used as directed and the tinting
aspect has opened up a whole new realm of silk painting possibilities to me. That, along with the many
possible application methods has made it a staple in my silk painting repertoire and is the only resist I
now use." (Ron Gutman, USA, www.rongutmanstudio.com)
"

Resistad

elevated my work to a new level when I discovered it years ago. You can heat-set the Re-
sistad with an iron, but I choose to steam-set it, which makes it extremely wax-like with incredible re-
sisting strength. I then apply the background colors often running my brush right over the resisted
areas! That simply cannot be done with other water-based resists. After steaming a second time to set
the background dye and rinsing the silk, the Resistad does not affect the hand of the silk, leaving it soft
and flowing. I am extremely chemically sensitive so I choose not to use solvent gutta and I have tried
more water-based resists than I can count. Resistad is hands down the best water-based resist in the
world. I have been using it for over a decade and my work would not be the same quality without it."
(Linda Marcille, USA: www.CrowHouseStudio.com)
GALLERY AND TESTIMONIALS
(click on images to enlarge)
(this page is still under construction; more contributions to be added)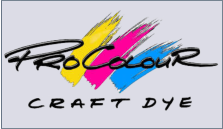 "Having recently started painting silk, and after trying a few other brands, I found it such a blessing to
find the Procolour

Selffix

dyes. Not only are they easy to prepare but I also love the brightness of the
colours. Living in the tropics we are surrounded by vibrant colours so I find the vibrancy of the Selffix
dyes together with silk very pleasing for my clients. The garments presented here are a reflection of the
warmer weather hence my application of the summery colours that the Selffix range offers. At times visi-
tors require slightly darker colours to suit their own home country environments, but once again this is
not a problem using the Selffix dye pallet. I also find it a lot of fun to mix the colours as the Selffix dyes
are easy to use so one gains more confidence through experimenting. Should I ever have a problem it is
also gratifying that the supplier is quick to help you to sort these problems out." (Kay George, Rarotonga,
ikgeorge@oyster.net.ck)







"I would have quit silk painting (my passion) had I not started using

Resistad

... it is FABULOUS!
The large one with the plumeria and parrots could only have been possible with Resistad, actually, none
of them would be!" (Wendy Tayler, Costa Rica: wendytayler@gmail.com)







"These ties were painted circa 1992 when the tie market was dominated by bold colours and free designs.
Perhaps the most powerful product attribute on show here is the screenprint-ability of

Resistad

gutta.
Screenprint-ability means that line work can be done with such precision that it is clearly superior to that
achieved by hand, and it's done in a fraction of the time. This gives viability and practicality to designs
that wouldn't be possible by hand, and this can give print-savvy craftspeople big market advantages.
Ponder the possibilities for your painting work!!??

Selffix

dyes are also represented in one of the tie
groups, and these dyes are extremely easy to use because they yield very bright colors immediately on
contact with the silk without any additional fixation rituals. So with Selffix dyes, painting times are very
quick and therefore viability is extremely good. Ponder this too, if you are a professional craftsperson or a
time-challenged filmset wardrobe artisan." (John Mitchell, Procolour)




These beautiful baskets were woven from dried NZ flax that had been immersion-dyed with

Selffix

dyes.
They are a contemporary art rendition of the traditional NZ Maori woven flax baskets. The Selffix dyes
dye wood, leaves, dry flowers, and raw plant fibres as well as silk.

"I have been a silk artist for about twelve years. The majority of my work is in the production of Silk Art
Dance Flags. My first decade of silk art was entirely tie-dye on silk with ultra-violet reactive dyes. Two
years ago I began painting on silk as a way to bring more form and structure to my designs. The biggest
hurdle of the painting process was finding a resist that worked consistently. I now use

Resistad

on all of
my paintings because it never fails me. I can paint very wet and the resist lines will not break while I am
blending color on silk. When the steaming is done, the resist washes completely out in the rinse, leav-
ing the silk's drape and softness unimpaired." (Don Baker, USA, www.DonBakerSilks.com)



A big thank you to all Procolour customers who have contributed their art and comments
here. For me this is the focal point of the website and an oasis of colour and art that waters
the creative thirst of the spirit and breathes life into the dull inert craft tools that Procolour
supplies ...
.

"

Corina Snow Bridal Couture

has now used John from Procolour for 5 years. We have found John's
colour-matching skills exceptional. Whether we send John a fabric sample of the colour required or on
the odd occasion a paint sample, we have not been disappointed with the

colour-match

yet. Due to a
lot of our dyeing being done in the wedding season, the quick turnaround from when we send the sample
to when we receive the dyed fabric back to us is impressive, allowing us to complete our clients gowns
within their tight time frame." (Corina Snow Bridal Couture,

NZ, www.corinabridal.co.nz

)














"For the last 15 years I have worked with Procolour dye products. Originally I started with the Heatfix
dyes, but soon moved on to the

Selffix

dyes, and since changing, I have never looked back. The Selfix
dyes are great for workshop use, and they're very economical and quick. They dye easily and produce
surprisingly bright colours. All my pictured outfits and samples have been dyed with the Selffix dyes.
They don't fade, if they're are stored in the dark, when not being worn. I still teach dyeing workshops in
Huntly, New Zealand, using everything from raw to fine yarn silk fabric. My 4 day workshops teach a wide
variety of silk embellishment techniques. Those interested should contact the artist". (Yanny Split, NZ,
www.kiwialan.co.nz)
.
"I've been using Procolour

Selffix

dyes for about 5 years for all methods of Shibori dyeing on silk cloth-
ing. The depth and strength of colour is incredible and I don't think I could achieve this, with such ease,
with any other product. John is always available to discuss any technical problems that arise and is very
knowledgeable in all aspects of dyeing." Sally Govorko, NZ, www.harlowesilk.com





"John Mitchell's

dyeing skills

, his instinctive and knowledgeable understanding of colour and fabrics
never fails to impress. Results are not just perfect, they're better than that, exactly what you were hoping
for, but excitingly better! I feel fortunate to know this talented artist who has done great work for me and
my clients. Rosemary Smith, Designer, NZ, h.rosemarysmith@xtra.co.nz


"Procolour has been

dyeing

for my couture dressmaking business for the last 10 years. During this time,
I've found Procolour's ability to match and dye exemplary. Tight time deadlines have always been met
and dyeing information on even the most tricky and testing fabrics has always been first class."
Faye Marmont Fashions, NZ, www.sarannefabrics.co.nz